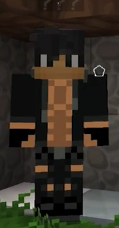 Jacob is Aaron's deceased son. They seemed to be close. One day Jacob returned to his home with an amulet given to him by  Zane. Aaron got mad at him for having it and took it from him. Everyone in his village died instantly.  
Lily is Aaron's deceased wife, killed by Zane during the incidents of the amulet.
Relationships
Edit
Aphmau, who he met during an attack by werewolves, was a close friend to him, and a possible romantic interest. They closely bonded over Lilith Garnet, a child adopted by Aphmau, of whom Aaron was essentially a father.
Lilith is a child whom Aphmau adopted. Her birth parents died in a shipwreck and she was taken in by the Wyverns. But they were unable to care for her, so Raven requested that Aphmau take her in. Aaron grabbed her and use his jacket as a blanket. He grew to be a father figure to Lilith.
Aaron's first known encounter with Zane was when Zane gave an amulet to Aaron's son Jacob. Aaron took the amulet from him and his whole village died. This was part of Zane's plan.
Community content is available under
CC-BY-SA
unless otherwise noted.