Castor the Chicken Shaman
[[File:|250px]]
Title(s)

Castor the Chicken Shaman

Full Name

Castor the Chicken Shaman

Nickname(s)

Chicken Shaman

Characteristics

Race

Human

Weapon

Chicken Sword
Chicken Magicks

Gender

Male

Traits

Handedness

Right

Complexion

Tan

Hair Color

Orange-Brown

Eye Color

Dark Blue

Professional Status

Affiliation(s)

Chickenteli (Old Meteli)
Phoenix Alliance

Previous Affiliation(s)

Old Meteli

Occupation(s)

King of Chickens

Personal Status

Status

Alive

Friend(s)
Enemy(s)

Brendan ("Horse Shaman")

Media

First Appearance
Became "Aware"
Voice Actor

Castor
Castor the Chicken Shaman is a recurring side character in Minecraft Diaries.
Biography
Edit
It is unknown what he did during his early life, but at some point he and Laurance became best friends. Laurance also currently owes five dollars to him. This was later lowered down to two dollars after Laurance sacrificed himself in the Nether, and since Laurance was Castor's friend he got a "friend discount".
It is also known, though, about his journey to the Nether with Sasha, Laurance and a few other unnamed people.
Castor the Chicken Shaman lives just outside the village of Meteli in a hut with his 'people' (chickens he is raising).
Castor was going to try and be Lord of Meteli after their old Lord got murdered. But he was a bit eccentric, and "ungentlemanly-like", so he was kicked out of the village.
When Aphmau came to get the potion for the Crazy Cat Lady, he had her build chicken houses and then criticized her for being terrible at it. Eventually he was done with her 'terrible' houses, gave her the potion she needed, and then kicked her out. When Aphmau returned to see if he had murdered Hayden, in "The Shaman of Chickens." (S1, E85) He had her build more chicken houses, while he talked to Laurance, giving him a poisonous drink in the process (Good thing Laurance spit it out, or he would be dead right now).
15 years later (in Season 2), Castor has made himself the lord of the old Meteli, or "The Chicken Village". He seems nicer than before, but he also seems even crazier. He is at war with "The Horse Shaman" who took over his Old house near old Meteli. He is a member of the Phoenix Alliance presently.
Castor made an appearance in Episode 76, when it is revealed he had snuck onto the island with his chickens by hiding in boxes Brendan had taken him. After that, he just ran off into the woods, going to explore "the Chicken Island". This is sadly the last time he is seen in the season
Appearance
Edit
Season 1
Edit
Castor wears a chicken mask, white, gold and brown clothes with a brown bandoleer . His eyes are a dark blue and has brown hair with a orange scarf tied around his head. He carries a chicken voodoo sword which is one of his most prized possesions.
Season 2
Edit
Castor wears a full-on chicken suit with a hood that looks like the face of a chicken and orange pants and grey shoes.
Personality 
Edit
Castor is known to be quite stubborn and pushy. This is typically the sort of behavior he displays to regular humans except for Cadenza who used to play with the baby chickens; however, the chickens, or his "people", are treated with sincerity and hospitality even if they are not apart of his village. Despite his stubbornness he is able to be understanding and helpful albeit he most likely will show his kindness in quirky ways.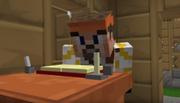 Other Series
Edit
He appears in episode 2 and 3 of Sassy Lawyer, accused of murder. He also appears in MyStreet episode 14, where he sells feathers of the highest quality, but then gets kicked out by Laurance and never made his delivery.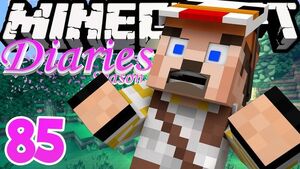 The name Castor is of Greek origin meaning "to excel" or "to shine".

The name is also famous in Greek mythology as it belongs to one of Zeus's sons. Castor is also the twin half-brother to Pollux who was fathered by Spartan king Tyndareus. Legend holds that they hatched from an egg but alas it was a swan and not a chicken. Also hatched from the egg were Helen of Sparta, later to be called Helen of Troy who was fathered by Zeus, and Clytemnestra who was fathered by Tyndareus.
He is named after a star in the constellation Gemini.
Castor is also knowledgeable in the use of magicks and potions.
Castor has three known counterparts. In MyStreet, he is a delivery person, but in the prequel series, MyStreet Phoenix Drop High, there is a teacher named Mr. Castor. If the two characters are the same or related is unknown. In MyStreet Season 2 he is a drunk hobo hired to dress as a wizard and tell people they will find true love at the resort if they buy a t-shirt. He is implied to be the same person as was delivering feathers though.
He was the first character in the series with a voice actor. 
Laurance owes him five dollars, later lowered down to two dollars. The reason why Laurance owes Castor money (which he probably never did) is unknown. 
He was named after his voice actor, Castor. 
In MCD Castor was obsessed with Chickens and has a "herd" of them following him everywhere he goes! 
"

I bet my chicken voodoo sword on it.

"
-Castor, Season 1 Episode 28
"

Laurence? Where is his stupid stupid face??

"
-Castor, a lot
"

Oh, it's YOU Terrible Chicken House Builder!

"
Castor the Chicken Shaman, plenty of times.
"

Castor: One second Laurance. Oh, don't drink too much of that 'cause uh that will actually kill you. Don't drink that at all. No. Stay away from that...

Laurance: *spits out whatever he was drinking*

"
Castor (and probably Laurance), MCD Season 1 Episode 85
"

WHAT DO YOU THINK YOU'RE DOING?!? YOU ARE NOT BLESSED BY THE CHICKEN GODS TO THROW EGGS ANYWHERE!!! THAT IS A JOB FOR THE CHICKEN SHAMAN.

"
Castor, MCD Season 1 Episode 85
"

Castor: Oh. Laurance. Well, Laurance and I go waaaaay back. And he still owes me five dollars...

Aphmau: REALLY?!? He just sacrificed his life for you!

Castor: Okay. Then he owes me two dollars... Friend discount, don't worry.

"
Aphmau and Castor, MCD Season 1 Episode 40
"

Now, if you don't mind some of us have chickens to lead."

"
-Castor The Chicken Shaman in episode 71 season 2.