Dottie

Characteristics

Race

Werewolf

Gender

Female

Age

28

Traits

Complexion

Pale

Hair Color

Dark Bluish Purple

Eye Color

Blue

Professional Status

Previous Affiliation(s)

Phoenix Drop High

Previous Occupation(s)

Phoenix Drop High Student

Personal Status

Status

Alive

Friend(s)
Enemy(s)

Media

First Appearance
Voice Actor

Kristina (Formerly)
Katelyn Barr
Biography
Edit
In episode "Lover Boy", we are introduced to Dottie. As part of the 3 pups which included Rylan and Daniel, she would often talk to Aphmau, who she called Alpha. She would also ask Aaron things about Aph as well, since they were close the previous year.Also Dottie is 18.
When Ein Becomes Alpha
Edit
After Ein becomes Alpha, she starts playing a bigger role. After Daniel becomes Omega, she would often spend her time training Daniel of defending him. Later, she also help Aph find her phone and help set up the werewolf games.
Appearance
Edit
Dottie has dark bluish-purple hair and her ears are dark purple with pink inside. Her eyes are blue and usually, she can be found wearing a school uniform.
However, she can be seen wearing casual clothing in a few episodes. This outfit contains a dark purple to light purple hombre flannel that is unbuttoned which reveals a white crop top and as bottoms, she has blue shorts.
Personality
Edit
Usually, she can be found hanging around Daniel and Rylan. She is the calmest one out of the group and yet is still extremely rash and hotheaded. She reminds the two often that Aphmau is a human and she still has much to learn about being an alpha. She seems sisterly and is happy with the current alpha, unlike Maria, who is always trying to challenge Aphmau for the position.
As an adult, her personality has not changed. She is still the sisterly, friendly Dottie we know and love.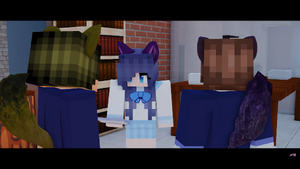 Episode Appearances
Edit
It is possible that she has a crush on Blaze.
Dottie is an abbreviation of the Greek name "Dorothy", meaning 'God's gift'.
It is revealed in the minigame episode "Daniel The Omega", Dottie doesn't have the greatest snooter, unlike Daniel.
Like always, Dottie is seen hanging around Daniel and Rylan.
At the end of "We Held On Fast...", Dottie is seen dropping off a book at Aphmau's house about werewolves.
Most of the werewolves Ein brainwashed appear in "Out of Time", but there are more werewolves than the ones that appeared in that episode. They are all dead, except for the ones who were not in the episode. Dottie is part of the second group.
Community content is available under
CC-BY-SA
unless otherwise noted.