Emmalyn
Nickname(s)

Characteristics

Race

Human

Weapon

Knowledge

Gender

Female

Traits

Complexion

Fair

Hair Color

Bleach Blonde

Eye Color

Indigo

Professional Status

Affiliation(s)

Phoenix Drop

Occupation(s)
Partner

Personal Status

Status

Alive

Relative(s)

Unnamed Parents (Deceased)

Relationships
Enemy(s)
Counterpart

Media

First Appearance
Became "Aware"
Voice Actor

Michelle Marie
Biography
Emmalyn is a villager in Phoenix Drop. When she was first introduced to the series, she lived in a house with Aphmau. However due to her rudeness and Aphmau's desire to build herself a better house, Aphmau moved out. Once Emmalyn became 'aware', she became a much nicer person. She moved into one of the houses in the housing district of Phoenix Drop and turned part of it into a library.
Emmalyn had a crush on Brendan for a long time and even tried to be more like Kawaii~Chan, who likes to bake sweets and be pink/kawaii/cute. However, she eventually decided to just be herself and focus on her studies. She currently is married to Kenmur, who seems to return her feelings. In the recent side stories, she thought Kenmur protected her from a gang, which Katelyn actually scared away from behind without the two noticing, and kissed him. Emmalyn is a scholar who has done a lot of research on Lady Irene. One of her most prized possessions is her miniature Irene statue which now belongs to Donna and Logan. Her parents had her when they were quite old, and they died when Emmalyn was a teenager.
In S1, E100, Emmalyn went to Irene's Dimension with the group, making her the same person in Season 2 as she was in Season 1. She is going to be studying Aphmau for quite a while for the effects of the relic that she absorbed and Emmalyn even calls her Lady Irene on accident at times.
During Episode 49, Emmalyn announced that she and Kenmur are getting married! Aphmau becomes very shocked at the sudden statement. She said that she and Kenmur had been hanging out a lot recently and jokingly says that in a certain sense, they have been together for fifteen years - as fifteen years have gone by in the Overworld, though since they were in the Irene Dimension it went by as fifteen minutes for them. She asked Aphmau to be her maid of honor (the chief bridesmaid; it is the bride's version of a best man) as Aphmau is her closest friend. Aphmau accepted willingly and has since started to prepare the wedding.
After two days of wedding preparations, Emmalyn's wedding day arrives. Aphmau visits Emmalyn and Cadenza to see how the two girls are doing and sees that Emmalyn is dressed in a beautiful wedding gown. Emmalyn thanks Aphmau for being there and to see how far their relationship has come ever since Aphmau had entered in her old house of Phoenix Drop.
In Episode 76, she arrives in the village settlement and starts  to research the temple. She finds a painting of the Divine Warriors. In Episode 78, we find out more about the research. Emmalyn says that the painting was of The War of The Magi. In the war, the Divine Warriors fought against Shad, the Shadow Lord. According to Emmalyn, the war happened on the island that the settlement is located on. Emmalyn also tells Aphmau about a divine grave, which Aphmau opens with her powers and obtains a divine fragment. Emmalyn is surprised by this and starts fangirling. After this she continues researching.
In S3 E3, after Aphmau wanted to know about Shad and the fragments, she went to her house to learn more about the Shadow Lord.
In Episode 6, a disguised Zane went to her house to learn more about Lady Irene in hopes of finding Aphmau and is revealed that according to Dante, she was kidnapped by Zane and went missing.
While being hostaged, she was threatened by Zane to either flee and Kenmur is killed or give him information. She then annoyed him with research about being a Shadow Knight and questions related to it to the point where Zane yells at her to shut up, while muttering aside that annoying scholars should be killed. It is unknown if Zane killed her or let her be afterwards.
Eventually the Shadow Knights have found their location and Zane had no choice but to find a new place to force Emmalyn to study and research and so he burned all of Emmalyn's textbooks to hide the evidence. Zane told her to not leave him when they look for a place and Emmalyn attempt to sneak away, but Zane caught up to her.
They arrived at a village where Zane wore the same disguise as when he kidnapped Emmalyn and convince the kids playing outside to find a nearby library to study as they are pretending to be scholars (Zane was hoping to actually kill the kids, but Emmalyn refused to let him). While they are at an inn for the night, Zane and Emmalyn decided to sneak out into the library. A grandma happily offered them the library to give notes as she goes back to bake cookies, as no one had ever used the library until they come into the village. Zane disappointed at how Emmalyn is unable to find any new information, slashes her arm and right cheek, threatening to kill someone within an hour if Emmalyn doesn't find anything new. Horrified, she accused him as a monster and is forced to go back to study.
An hour later, Emmalyn hopes to impress Zane by showing him an incarnation, but this made Zane even more furious. The grandma later returned back with cookies and Zane, taking out his sword, kills her, much to Emmalyn's horror. Zane mocks her by eating some of the cookies and notices that Emmalyn needs more encouragement. Emmalyn says she had enough and she is trying her hardest. Zane is still impatient as he goes to slaughter the Tu'la guards in front of the library, forcing Emmalyn to feel more guilt. Zane then breaks his word and burns the entire village right after killing the guards.
As Zane was enjoying the bloodbath massacre, Emmalyn was in horror for what he had done and once again, accused him as a monster. Zane said that all of the people's death was all her fault for not finding any useful information, causing Emmalyn to slap him. Dante and Kenmur arrived and begged Emmalyn to come back, but Zane easily defeats Dante in a duel and threatens to kill Kenmur if Emmalyn doesn't come with him as her life is in his hands. She cannot respond as Kenmur attempts to attack Zane but was killed immediately by his sword, terrifying her. Dante tried to attack Zane to avenge Kenmur until Lucinda arrived and tried to help Dante.
Lucinda can't fire a magic spell at Zane while standing in the air but she told him to surrender. A child wanders in, looking for the grandmother that was killed by Zane. He used him to threatened Emmalyn to join him instead of joining Dante, and Emmalyn had no choice as she sees death everywhere she goes and reveals that she has found something that Zane is looking for: an essence about Shad's fragment in a research paper. Zane looked please and Emmalyn tells Dante not to follow her as she is teleported with Zane. At a safe distance, Zane demands that Emmalyn gives him the information she found, but all she could do was mourn about the death of her husband, which Zane figures out quickly. He was about to enforce her, but realized he could instead use what transpired to manipulate her.
Emmalyn was wondering if Kenmur will come back as a Shadow Knight, but Zane explains that only powerful and strong people like Lords or elite guards come back as Shad deems them worthy, so Kenmur will stay dead. He explains how he became a Shadow Knight due to knowing about Irene and didn't like how Aaron was stuck with him in limbo. Emmalyn demanded why Aaron died, and Zane explains that he wanted to get rid of Esmund's relic that Zane had. He explains the process of removing a relic and Emmalyn was angry after hearing this. She declared her hatred towards Zane for taking away Aaron and Kenmur as they, along with her and Aphmau helped research for Irene. She even mention how Aphmau was happy to be with him and was extremely devastated by his death. Zane doesn't want to hear her rant and demands her to finish grieving for her loss and tell him the info before sunrise or else he will go to another village and go on a murderous rampage. He let Emmalyn time to think as he goes to rest.
Emmalyn decides to sneak out and escape and runs through the forest for 24 hours straight, hoping to find a safe house that she can stay in. While running through the forest the next day, she encounters Fenrir, still on the hunt for Aphmau after the wedding disaster three years ago. After Fenrir introduced himself as king of the Southeastern Werewolf Tribe, Emmalyn regconized him and intrigued by her knowledge, Fenrir ordered his general, Blaze, to arrest her and take her to prison, where he will possibly interrogate her about Aphmau.
Blaze took Emmalyn to the castle of the Southeastern Werewolf tribe. Emmalyn was impressed by how civilized the tribe is and he takes her to a chamber where she will be held. Before Blaze can let her in, Fenrir stopped him and interrogated her about where she is from. Emmalyn said that she is a traveling scholar from Meteli. Fenrir then sniffs her, saying that she smells familiar and sends her to her chamber. Emmalyn then reveals that she snatched the fragment from Zane, hoping to use it to save Kenmur. While trying to open the door, she overheard Fenrir's plan to kill Aphmau's friends and family and force her to marry him or die as well, after Laurance killed his father and other siblings. Realizing that he's out to kill Aphmau, Emmalyn decides that she must escape.
While studying and looking at her notes, Fenrir and Blaze enter her room and showed her a drawing about the wedding tragedy. The drawing shows an evil Aphmau as a Shadow Knight slaying the other werewolves. Blaze explains that she was the reason behind the tragedy and thus needs to be killed. Emmalyn was about to spill her name as to why it was Aphmau, not Laurance that caused it, and Blaze explains that she defied the wedding to Fenrir, awaken as a Shadow Knight and slaughtered the king and several others. He then declares that she and whoever is close to her will be killed as well as Aphmau herself so that their tribe remain superior. Emmalyn is annoyed by how they want to kill Aphmau just for that reason and accidentally revealed her name and hometown. This gives Fenrir and Blaze useful information as they prepare to attack Phoenix Drop and declare war.
Appearance
Emmalyn has long pale blond hair and indigo eyes. She wears a magenta coat with yellow buttons over a white shirt and wears big black glasses. She wears black pants and has magenta shoes. However, at her wedding, she wears a white dress, and her hair is tied into a loose bun, and she does not wear her glasses. During her time as a enslaved prisoner by a monster, she was given a wound on her left cheek and right arm.
Personality
Emmalyn is a very intelligent, but kind girl. She is very fascinated, one can say obsessed, with Lady Irene and focuses on studying her. Emmalyn has the tendency to yell when she gets excited or frustrated, or when she can't find the answer about things. In the beginning, before she was 'aware', she and Aphmau didn't quite get along because Aphmau accidentally punched her. Afterwards, they became friends, and she is a useful person to have around.
She is also known to rant and ramble about various topics when she isn't stopped, as seen in several episodes- most commonly she goes on about Lady Irene. She appears to be very observant as she takes notice of her surroundings and was able to notice Aphmau whilst in the forest. She can also be, what can only be described as, a fangirl.
Gallery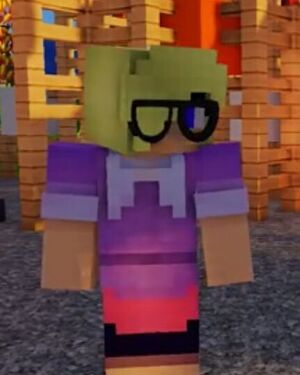 Trivia
Emmalyn is a name often attributed to French or German origin, meaning "hardworking". This is a very fitting name, because she works very hard to know more about Lady Irene.
Emmalyn did not really like Aphmau in early episodes of Season One.
Also in the early episodes of Season One, Aphmau and Emmalyn actually lived together.
Emmalyn can be very shy at times and sometimes stutters when talking to people.
It is possible that she may not need her glasses at all times and perhaps simply has a habit of wearing them, since she does not wear them at her wedding.