Issa
Full Name

Issa

Characteristics

Race

Human

Gender

Female

Birthdate

3rd of June

Traits

Complexion

Pale

Hair Color

Light Blonde

Eye Color

Sky Blue

Professional Status

Affiliation(s)

Phoenix Alliance

Occupation(s)

Horse Breeder

Personal Status

Status

Alive

Relationships

Media

First Appearance
Biography:
Edit
Issa is the wife of Brendan. She is currently a mother to a baby girl named Dell. She first shows up in Episode 8 of Season Two, when Aphmau is looking for the Horse Shaman. The Horse Shaman turns out to be Brendan, who really has no hostility towards the Chicken Shaman.
Appearance:
Edit
She has long platinum blond hair, decorated with a red bow, as well as a crimson ribbon tied into a bow at the back of her head. Issa has bright blue eyes, though she also has very visible bags under them, so she presumably doesn't get much rest. (Probably due to her pregnancy.) She wears a white-and-black striped shirt under a cardigan with a red and yellow design, as well as denim shorts- an interesting choice, as she's pregnant- and brown leather cowboy boots.
Personality:
Edit
She appears to be very friendly and welcoming, but emotional and often hungry, according to Brendan. This would make sense, considering her pregnancy. She also talks in a southern accent.
Gallery:
Edit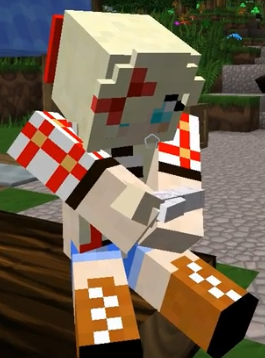 Issa is an Arabic name, and is the Arabic form of the Hebrew name Yeshua. The name Issa means "messenger of Allah and his word". Allah is the the Arabic word for God, referring to the God in Abrahamic religions, such as Islam.
Community content is available under
CC-BY-SA
unless otherwise noted.