Logan

Characteristics

Race

Werewolf
Human (Formerly)

Gender

Male

Traits

Complexion

Tan

Hair Color

Blonde

Eye Color

Blue

Professional Status

Affiliation(s)

Phoenix Drop

Occupation(s)

Merchant

Partner

Donna (Wife)

Personal Status

Status

Alive

Relative(s)
Relationships

Levin (Lord)

Friend(s)

Aphmau (Ex-Lord; Good Friend)

Media

First Appearance
Voice Actor

KamiWasa
 Biography
Edit
Logan is a part, or rather say cursed Werewolf and was and still a citizen of Phoenix Drop.
He is the husband of Donna and foster father of Yip, a werewolf cub from the Eastern Wolf tribe that was attacked by Zane. He usually holds a grudge when it comes to Aphmau, but sometimes is warm-hearted with her.
15 years later, Logan is still in Phoenix Drop and is now the father of four children; Yip, the twins Rollo and Lello and a baby girl named Luca.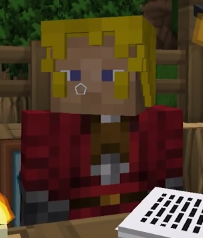 Appearance
Edit
Logan has vibrant blond hair, that appears to be quite curly and blue eyes. He wears a dark red shirt with gold markings, black faded trousers and brown shoes. 15 years later, he wears a dark red robe with a longer hemline and a belt.
Personality 
Edit
Logan is described as a "greedy, traveling merchant", who soon stayed in Phoenix Drop. He holds a grudge with Aphmau most times, but sometimes is kind to her. But when it comes to Donna, he'll do anything to keep her safe. He is warm-hearted and he cares for people he loves. He kinda acts like an older brother to Aphmau, giving her a hard time, but always coming through for her in the end.
Aphmau likes to think of him as a jerk on the outside, but a softie on the inside.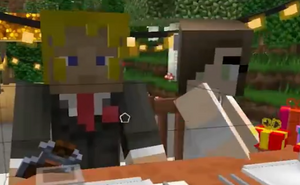 The name Logan is Gaelic and means "from the hollow". A hollow is a low wooded area, like a thicket

Logan's name also means "descendant of the warrior".

Logan is the first person in the series to be changed into a werewolf.