Lord Luke

Characteristics

Race

Human

Gender

Male

Traits

Complexion

Fair

Hair Color

White

Eye Color

Red

Professional Status

Affiliation(s)
Previous Occupation(s)

Lord of Pikoro Village

Partner

Hyria (Wife)

Personal Status

Status

Unknown

Relative(s)

Lucinda (Daughter)

Relationships

Aphmau (Ally)

Enemy(s)

Zane (Enemy)

Media

First Appearance
 Biography
Edit
Lord Luke is the Lord of Pikoro Village and the father of Lucinda. He first appears in S1, E74 found on a Shadow Knight altar under the Pikoro Village well. He was in a deep slumber that Aphmau could not wake him from. Sensing Lucinda, he wakes up. It was found out that they had some troubles together, as it seemed that Pikoro village had hated Witchcraft users for some reason, and Lucinda was one.
As of S2, his current status is unknown. However, he appears very old and might have already passed away.
It was revealed in S2. Ep 46 that Lord Luke and Hyria had a daughter together (though unknown if married or not) who turns out to be Lucinda. However, Lucinda and Lord Luke had left the Sacred Forest, and Hyria hadn't come with them, because Hyria was too connected to the Sacred Forest.
Appearance
Edit
He has bushy white eyebrows, a white mustache, gold and black shackles, no shirt, and black pants. He is nearly bald.
Personality 
Edit
He is kind but wants to rip Zane apart. He doesn't think before he acts, as seen in Episode 99.
He apparently cares a lot for his daughter, but they get in arguments a lot. At first, Lucinda was mad at him for kicking her out, but he was just doing the best for his village and his daughter, and they eventually made up. he was sincerely sorry, and even Lucinda stopped arguing with him, which means that he could be quite persuasive but also a little stubborn.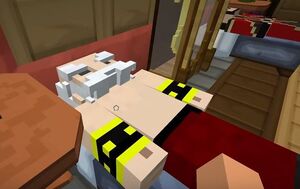 Community content is available under
CC-BY-SA
unless otherwise noted.