Luca

Characteristics

Race

Human

Gender

Female

Traits

Complexion

Fair

Hair Color

Blonde

Professional Status

Affiliation(s)

Phoenix Drop

Personal Status

Status

Alive

Relative(s)

Media

First Appearance
Biography
Edit
Luca is the only daughter of Logan and Donna and the youngest of their four children. She is, like her two brothers, considered to be the younger sibling of Yip, though Yip is not biologically related to them and is actually adopted. Genetically, Luca is the younger sister of Lello and Rollo.
Appearance
Edit
She has her father's blonde hair, which is also similar in shade to Lello's. She is only ever seen wrapped up in a blue blanket. She is also blushing a bit under her eyes.
Personality
Edit
Not much is known about Luca, as she has only been seen asleep, swaddled in her blanket.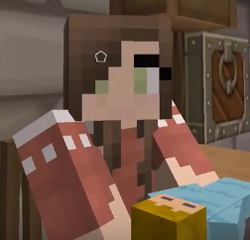 Luca is a name of Italian origin. The name Luca means, quite ironically since Luca is a girl, "man from Lucania". Lucania was an ancient district of Southern Italy, extending from the Tyrrhenian Sea to the Gulf of Taranto.

Luca's brother, Lello, also has an Italian name. Their other brother, Rollo, however, has an American name, their mother's name is also American, while their father's name is of Gaelic origin.

There has been some debate among viewers as to whether Luca is a boy or girl, given the fact that she does not seem to have any stereotypically female aspects of her appearance and also has a name that is considered by many cultures to be masculine. However, Luca is definitely a girl, as she has been referred to as a "she", by both her mother and Aphmau on several occasions.
Community content is available under
CC-BY-SA
unless otherwise noted.