Minecraft Isles

Minecraft Isles

General Information

Creators
Seasons

1

Episodes

Production Information

Original Run

June 24th, 2015 - August 1st, 2015

Status

Ended
Minecraft Isles
is a SMP (Survival Multiplayer) on a pirate era scenario, where there are different youtubers that have different perspectives on this map. Aphmau did a roleplay series in this SMP, but was sadly cancelled due to scheduling and difficulty to roleplay with survival.
While heading for the course to Tankard Bay, the pirates hit a strong storm. After the storm had settled down, they find themselves that only half the ship and the crew and passengers were still on the ship. They soon found out that the captain was gone which was good since they were all planning on muting him out anyways. They explored the new land before them and decided to have a competition who can prove themselves as the best suited captain.
After Episode 9, Aphmau announced that she stopped Minecraft Isles. However, sometimes the characters make cameos on some of Aphmau's other roleplays.
In May 2017, Jess and Jason announced the possiblity of a Minecraft Isles revival series with the involvement of mermaids. As of June 2017, the series is in development, but would not premiere until a few more months due to the finales of MyStreet: Emerald Secret, MyStreet Phoenix Drop High: Season 2, and later Aphmau's Year.
Youtubers Participated
Edit
Notice, that a few youtubers have set their episodes as unlisted, and/or privated or deleted them.
Characters
Edit
During that time Aphmau was on Minecraft Isles she met people who were quite interesting...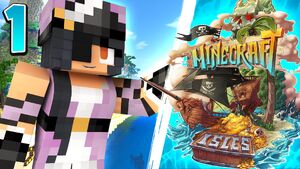 Community content is available under
CC-BY-SA
unless otherwise noted.