Nicole
Full Name

Nicole Von Rosenburg

Characteristics

Race

Human

Gender

Female

Age

28

Traits

Handedness

Ambidextrous

Complexion

Pale

Hair Color

Red

Eye Color

Gray

Professional Status

Previous Affiliation(s)

Phoenix Drop High

Previous Occupation(s)

Phoenix Drop High Student

Personal Status

Status

Alive

Friend(s)
Counterpart

Media

First Appearance
Voice Actor
Biography
Edit
In MyStreet, she has a minor role as she rarely appears in any of the episodes. One of her prominent roles was during the Mistletoe Wars, where she, Kawaii~Chan and Cadenza were starting a fight on which guy better suits for Aphmau. During the neighborhood play, she and Dante walked into to the guys' house where they find them mumbling to their own. It is then shown that the guys are auditioning for the role of Romeo. Having heard of the news, Dante jumped and wanted to audition as well, which angers Nicole. She then storms off as she leaves Dante's house still furious. 
Their relationship seems to have been fixed as she continues to care for Dante dearly and seems to hold the attraction for him, as he does as well. 
She retains a bit of her personality in Minecraft Diaries, such as courageous, spunky and funny. She is also a fighter, who was ready to go against Kawaii~Chan and Cadenza during "Mistletoe Wars". Nicole and Dante seemed to have taken an interest on each other, leading to two casually hanging out often. She and Katelyn are close friends, who she cares dearly of and vice versa.
Valentine's Day Arc
Edit
In Part 1 of the Valentine's Day Arc, Laurance mentions that Dante will be taking Nicole to the Valentine's date. In Part 2, Dante says that he would like some time alone with Nicole.
A-Con Arc
Edit
Nicole is only seen once during the A-Con Arc, but it is said by Katelyn that she got sick on the second day and that Dante is taking care of her.
Appearance
Edit
Nicole has long, dark red hair and gray eyes. In her casual Season 1 look, she wore a white top and a pink plaid cardigan that shows her shoulders with her hair covering both sides. In addition to her top, she wears pale blue jeans, which are ripped into hearts on her knees.
In her formal wear she sports a long maroon sweater with two white stripes on each sleeve.
In her cosplay she is wearing floor-length gown with white, rounded, puffy sleeves, a navy top, and a blue skirt. Her dress has a blue pinafore over the top. She also wears white gloves. Her hair is shown to be in a ponytail.
In her Season 2 look she accessorizes with a yellow bow and choker. Her bikini is of different shades of pink.
Personality
Edit
Nicole has a similar personality to Katelyn's, but much milder. Nicole also has a spunky and fun personality.
Episode Appearances
Edit
She stated she would have moved in with Katelyn and Aphmau in MyStreet, but her and Katelyn clash easily. They would probably rip each other's heads off.
Abby nicknames Nicole "Miss Nikky" in MyStreet.
Nicole is a feminine given name and a surname. The name Nicole is of Greek origin and means "victorious people". It's evolved into a French feminine derivative of the masculine name Nicolas. There are many variants.
Nicole frequently makes cameo appearances in MyStreet and MyStreet Phoenix Drop High.
Nicole, along with Cadenza and Vylad, has yet to appear in MyStreet Season 3.
"

Oh, come on Katelyn!

"
-Nicole, Multiple Episodes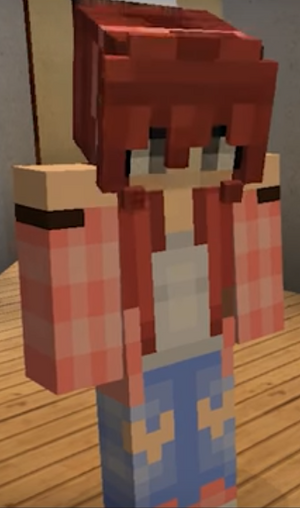 Community content is available under
CC-BY-SA
unless otherwise noted.