Rachel
Full Name

Rachel Lycan

Alias

Rachel Wolfwere

Characteristics

Race

Werewolf

Gender

Female

Birthdate

June 7

Age

40s to 50s

Traits

Handedness

Ambidextrous

Complexion

Fair

Hair Color

Dark Brown

Eye Color

Black

Professional Status

Affiliation(s)

Lycan Corporation

Occupation(s)

Business Woman

Partner

Derek (Husband) †?

Personal Status

Status

Deceased

Relative(s)
Relationships

Aphmau (Future Daughter-in-law)

Friend(s)
Enemy(s)

Media

First Appearance
Last Appearance
Voice Actor

Kimlinh Tran
Biography
Edit
Rachel was Aaron and Melissa's mother and Derek's wife.
Season 3
Edit
Along with her husband she is seen wanting Aaron to return home. On a phone call with Melissa, she is seen treating her daughter more like a colleague than a daughter. When Aaron returns home she steals his phone, blocks Aphmau's number and deletes all photos of her. She gets away with it until Zianna and Sylvanna catch her
Holiday Special
Edit
Aphmau invites Rachel, Melissa, and Derek for Christmas. Rachel and Sylvanna are very competitive in everything from cookie making to tree decorating. She is seen to be very jealous when Sylvanna gets bushy around Derek.
Season 4
Edit
After the incident with Ein, she is up at the lodge with her husband and a team of doctors. When Sylvanna and Eric barge in and demand to see Aaron, she objects. She also objects when her husband asks them all to leave the room so he can talk to Aphmau alone.
Season 5
Edit
She is first seen when Melissa and Derek are showing Aphmau around the house.
Season 6
Edit
She tries her best to hide from the Guardian Forces because they are looking for her and her family because of the Ultima Secret. They eventually found out where they are hiding and the GF wants to get them but when Aaron tries to escape, Melissa gets killed(Later found to be alive later that season). After that, Rachel gets captured.
Eventually, Rachel is executed by the GF which is shown through a news report.
Personality
Edit
She is shown to be bossy and not care much for others feelings. She is also shown to be competitive.
Because of Ultima blood flowing from Derek's side of the family, she hides her werewolf form to along with the rest of the family to help keep the Ultima werewolf a myth, for Aaron's sake.
After the tragedy in the lodge, Rachel and the rest of the family decided that Aaron and Aphmau should be together after all. While in Starlight, she keeps her ears and tail out. She also seems more cheerful and wants to be a grandma. Even when she started talking serious to Sylvana about the wedding proposal, she still acts playful by angrily demanding if the two lovebirds heard of their conversation, she will get mad at Sylvana.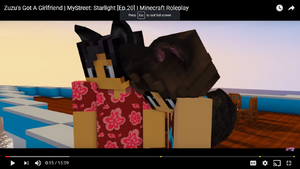 It was revealed in "Make Me Like You", from Terry to Aaron, that Rachel was born a werewolf.
She is the first Lycan to die, and the first major character to die, but she died offscreen.
Community content is available under
CC-BY-SA
unless otherwise noted.