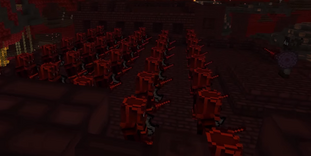 The Shadow Knights are a large group of antagonists in the series; they work for the Shadow Lord in the Nether and they will do anything to get people on their side.
About 15 years later, as of Season 2, the Shadow Knights seem to have become stronger and have built a nether portal somewhere in the world from which they are sending Shadow Souls into the world. We find out in the end of Season 2 Episode 36 that the portal of the Southern Wolf Tribe has somehow been opened by Zenix, another Shadow Knight.
In Season 3, due to the return of Shad, the Shadow Knights are even more active, now led by Gene to find Zane and kill him for stealing the fragment and also find Alina as she holds Shad's relic and kill her mother, Lady Irene, aka Aphmau.
Characteristics
Edit
Shadow Knights are mostly created when someone dies or is stuck in the Nether, but some are created in the Nether. They undergo mental change, with other Shadow Knights convincing them that they were abandoned.
To achieve immortality and enhanced powers, a turned Shadow Knight must go to the overworld and kill someone they were once close to. A shadow knight who has not done this yet is called a "premature shadow knight". However, all Shadow Knights are immortal if they stay in the Nether (except Zenix apparently by passes this and absorbs the others somehow).
All Shadow Knights, even premature ones, can transform into a larger version of themselves that is more powerful, and has armor and weapons.
A method for curing a Shadow Knight has not been found. However, knights like Sasha, Laurance, Vincent, and Vylad etc, have been able to keep control of themselves through mind over matter.
Shadow Knights develop more feelings when being in the overworld for to long (ex: Laurance has developed feelings for Aphmau, although Laurance already had feelings for Aphmau in the beginning before he turned; another example is that Vylad remembered Garroth)
The main goal of the Shadow Knights seems to be helping the Shadow King, Shad the destroyer, rise to power in the Overworld once again, although their original motives are vague. They seem to want the Lord system gone, which may be the reason why a Shadow Knight must kill their past Lord. But another reason why they kill their old Lord's is because to obtain immortality is to kill someone you cared for, and most of the Shadow Knights are guards and guards protect and care for their Lords. Therefore another reason for killing their past Lord besides the one above.
As of Season 3, it may be possible that the Shadow Knights are also planning to not only take over the Overworld, but also kill Aphmau as she is known now as Lady Irene and take her daughter, Alina. This is supported by Gene that Aphmau must be dead and Alina be taken and that also Zane must be killed for stealing Shad's relic.
Appearance
Edit
Although they have appeared differently and each have their own face, the army usually has the same red armor and red helmet on. However, characters like Sasha and Vincent have never been seen wearing this armor. Most use the same red sword. The armor looks like it has black bands on it also. If they transform, red particles will be seen circling them with eyes of unnatural color like red and purple.
Villains
Edit
Community content is available under
CC-BY-SA
unless otherwise noted.