Take Them By Force

Season 6, Episode 4
Statistics
Post Date
12 May, 2018
Duration
22:13
Credits
Written By
Directed By
Produced By
Edited By
Storyboarded By
Episode Guide
Previous
"Stay with Me"
←
Next
"Aaron's Losing Battle"
→
8"Take Them By Force" is the fourth episode of "MyStreet: When Angels Fall". It premiered on May 12th, 2018.
"Protect those close to you."
Derek wakes up in a cell, Micheal enters the room. Micheal then possesses a guard and orders that guard(Here forth Known as Possessed Guard) to kill the other guard in the room, dismissed, and then starts a conversation with Derek.
Everyone discusses their time at the their saferoom with Melissa and Garroth cracking jokes at Aaron's dancing skill, Garte and Zianna having plans to leave starlight, practically leaving their friends to fend for themselves.
Zack and Derek then have a small conversation revealing that Guardian Forces were en route to raid the safehouse everyone was hiding in.
A helicopter flies to the hotel room and the raid starts taking effect, everyone is separated in different rooms with squadrons of GF.
Aaron, Melissa, Rachel, And Rowan are locked with each other, resisting the GF's attempts to break into the room. After some conversation rowan distracts the helicopter.
Aphmau is locked in a room by herself but after Zane tells her to, the two climb down from the balconies to escape the GF, Zane runs into a young boy who agrees to help Zane because he believes that Zane is spider man.
Garroth, Kim, and Lucinda are forced to use a teleportation spell to escape.
Aaron and Melissa escape with Kawaii~chan however after spoting Toby and a large squadron, Melissa sacrifices herself to save Aaron and Kawaii~chan by shoving them into the stairway and ripping the door handle off. Toby orders Melissa to be arrested however Melissa is shot by the Possessed soldier who is under Micheal's influence, Toby tackled the soldier but still shoots Melissa or so Aaron believes.
In the aftermath there were: 7 Escapees(Aphmau, Aaron, Zane, Kawaii~chan, Garroth, Lucinda, and Kim), 4 Detained(Rachel, Garte Ro' Meave, Zianna Ro' Meave, and Agent R (Rowan) and 4 W.I.A(Wounded In Action) Or KIA(Killed In Action) (Melissa, And A few GF soldiers).
Characters
Edit
Jason was asked on twitter if anyone was going to die in season 6, to which he replied "Sorry, not sorry" suggesting someone was going to die, the reveal was that Melissa was wounded(as shown in the final episode)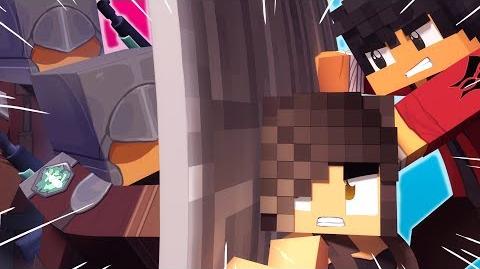 Community content is available under
CC-BY-SA
unless otherwise noted.