Urla
Title(s)

Crazy Cat Lady

Full Name

Urla

Characteristics

Race

Human

Weapon

Throwing Cats

Gender

Female

Traits

Complexion

Light

Hair Color

Gray

Eye Color

Gray

Professional Status

Affiliation(s)

Cat Island

Previous Partner

Donna's Father

Personal Status

Status

Deceased

Relative(s)
Relationships

Mittens (Pet)

Enemy(s)

Dogs

Counterpart

Media

First Appearance
Voice Actor

Aphmau
This article is a stub. Help add more info to it!
Biography
Edit
The Crazy Cat Lady makes her "grand" debut in E25, S1. Aphmau runs into her island on the way to Scaleswind and is forced to spend the night on the cat-infested island with the Crazy Cat Lady. She hates any type dogs or werewolves and only loves cats. At her house, all of the cats pee all over the floor and Aphmau said that it will be a cat's pee tsunami. She has a favorite cat among the rest named Mittens. He becomes large and forces Aphmau to go on a trip to Meteli to get a potion from The Chicken Shaman. During this time, we learn that Sasha was the one who used this magic. It is later found out that The Crazy Cat Lady is Donna's mother, which causes some problems when she finds out Donna's fiance, Logan, is a werewolf.
In S2 EP17, we learn that her real name is Urla and that she disowned Donna after she found out she married a werewolf and adopted a werewolf child. She was extremely distraught with Donna's decision. Sometime later she adopted Michi. She died two years before Aphmau returned to the crazy cat lady's island. She is also the sister of Dr. Doctor.
Appearance
Edit
Elderly woman, gray hair, a bun on the back of her head. Wears a green sweater with a white shirt underneath it and black striped pants. She is almost never seen without Mittens, her favorite cat. She has bushy eyebrows.
Personality
Edit
She loves cats and hates dogs and werewolves. She is irritated greatly when she finds out Logan is a werewolf after Donna and Logan's wedding. If you own a dog, she is very rude to you like she was with Aphmau.
She calls spells/magicks juju.
Urla means shouting in Italian; fitting because she shouts a lot.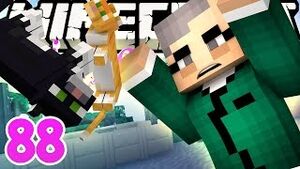 Community content is available under
CC-BY-SA
unless otherwise noted.